TNPSC Group 4 Exam Date 2023-24 out check tnpsc gov in
TNPSC குரூப் 4 தேர்வு 2023 24 தேதி அறிவிப்பு
TNPSC Group 4 Exam Date 2023-24 out check tnpsc gov in : TNPSC குரூப் 4 தேர்வு 2023 24 தேதி அறிவிப்பு The Tamil Nadu Public Service Commission (TNPSC) has unveiled the much-awaited examination schedule for the Group 1 and Group 4 exams in 2024. This announcement brings a wave of anticipation for candidates who are gearing up to participate in these prestigious examinations. In this article, we will provide you with comprehensive details about the TNPSC Group 1 and Group 4 exam dates and what you need to know to prepare effectively.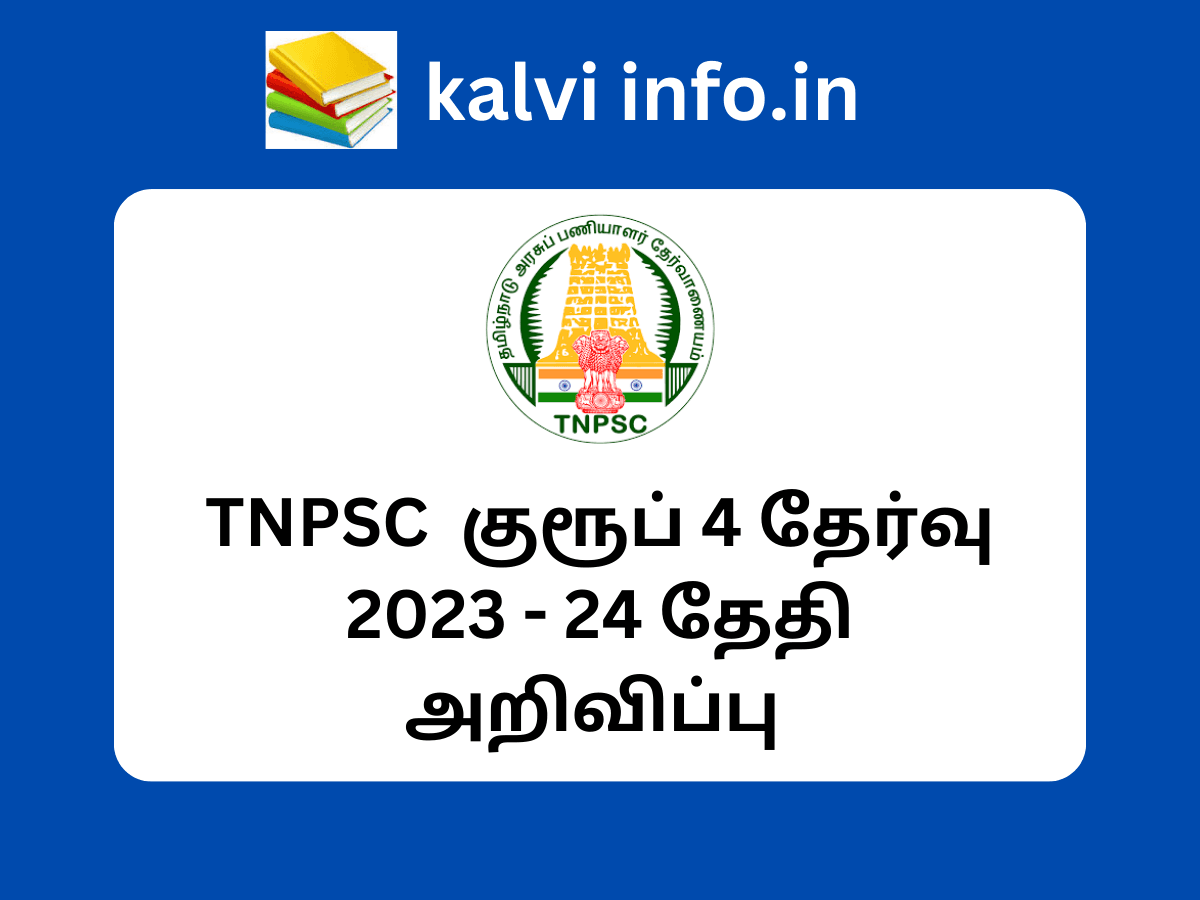 TNPSC Group 1 Exam Schedule 2024
Preliminary Examination: The Group 1 Preliminary Examination is scheduled to take place in November 2023. This examination is the initial step towards securing one of the 32 coveted posts.
Main Written Examination: After successfully clearing the Preliminary Examination, candidates will gear up for the Group 1 Main Written Examination, which is set to be held in July 2024. This stage plays a crucial role in the selection process, and aspirants should be well-prepared to excel.
TNPSC Group 4 Exam Date 2024
Notification Release: TNPSC has announced that the Group 4 exam notification will be officially released in November 2023. This notification will provide detailed information about the examination, including eligibility criteria, syllabus, and application procedures.
Written Exam Date: For Group 4 aspirants, the written examination is scheduled for February 2024. This examination will be the key to securing various posts within the Group 4 category.
It's essential to stay updated with the official TNPSC website and their Annual Planner for the latest information regarding these examinations. Keep an eye on our blog for timely updates and valuable insights to aid your preparation.
மேலும் கல்வி மற்றும் வேலைவாய்ப்பு சம்பந்தமான தகவல்களை பெற WhatsApp குரூப்பில் இணையவும்
Join our Groups
     Whatsapp
    join
How to Check tnpsc.gov.in Group 1 & Group 4 Exam Date 2023-24?
To access the TNPSC Group 1 and Group 4 exam dates for 2024, follow these steps:
Visit the official website of the Tamil Nadu Public Service Commission at www.tnpsc.gov.in.
Look for the "Examination Schedule" or "Important Dates" section on the homepage.
Click on the respective link for Group 1 or Group 4 exam dates.

The exam dates, including the Preliminary and Main Written Examination schedules, will be displayed.

Make note of these dates and mark them on your calendar for future reference.